Welcome to the Wilmot Music web site!
We have been in business since 1999, and we pride ourselves on providing customers with the best-quality products and personal service. Please drop by our retail location in Wilmot, Nova Scotia, Canada, to see all of the items we have in stock. C Guitars Plus buys / sells/ trades new and used instruments.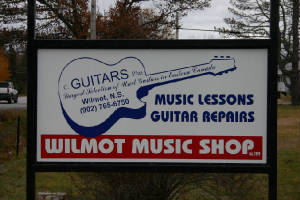 We take enormous pride in selling the finest products, and hope that you'll find something in our store that you like. We look forward to serving you.
Acoustic:

Extra Light - In Stock
Light - In Stock
Medium Light - In Stock
Bluegrass - In Stock

Electric:

9-42 - In Stock
10-46 - In Stock
10-52 - In Stock
11-49 - In Stock

Electric Bass:

Short Scale - In Stock
Long Scale - In Stock

Upright Double Bass - Special Order
Classic Guitar - High Tension - In Stock
Violin - In Stock
Ukulele - In Stock
Mandolin - In Stock
Tenor Banjo (4 String) - In Stock
5 String Banjo - In Stock
Dulcimer - In Stock
12 String Guitar - In Stock
Violin Single String - In Stock
Guitar Single String - In Stock


We have Violins & Mandolins

We have Amplifiers & Electronics

Acoustic Guitars

Dreadnaughts - In Stock
Cutaway Electric - In Stock
Bass Guitars - In Stock
Travel Guitars - In Stock
Classical Guitars - In Stock
Dobros - In Stock
Steel Guitars - In Stock
Shortscale Acoustic Guitars - In Stock
Vintage Guitars - In Stock
Over 200+ used Guitars - In Stock
Gigbags, Cases & Accessories - In Stock